The Story of Two Geeks
For six days—starting on April 19th, 2008—two geeks, Berty and Mattski, drove a hunk of junk across the United States. They took close to 2,000 photos, traveled over 3,300 miles, through 13 states, and ate an unholy amount of junkfood.
They also wrote about it.
Feel free to check out their description of the drive in the Day by Day section, or take a look at the 215 different photos that they decided to publish in the Photos section. And if you are thinking of doing this yourself, or you're just curious about something in particular that they didn't talk about, feel free to ask them a question.
Day Zero – Getting Into Position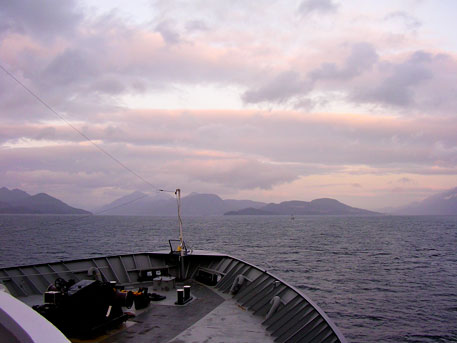 It's go time, baby. The geeks hit the road/air/water and converged on Seattle. Though Mattski started out one day and fifteen hours ahead of Berty, they both arrived at Seattle within ten minutes of one another.
The rest of the day was spent doing the tourist thing. Berty had never been to Seattle, and Mattski had spent tons of time there. They ate at Duke's Chowder house in Green Lake, drove around the different neighborhoods of they city, walked around Pike Place Market, and checked out the Space Needle.
Look at what they did on the Day Zero page or view the photos they took.
Day One – Seattle, WA, to Twin Falls, ID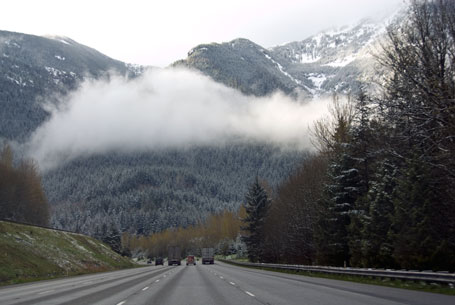 Bad news for the Geeks. Weather moved in and their first choice, Stevens Pass, was not possible. Chains were required for cars going through the pass because of 22 inches of snow that fell. Yup. Freakin' snow! In April!
They drove through three states, through a mountain pass, through a desert, and over a gorge.
They drove 633 miles.
Read how they did it on the Day One page or look at the photos they took.
Day Two – Twin Falls, ID, to Riverton, WY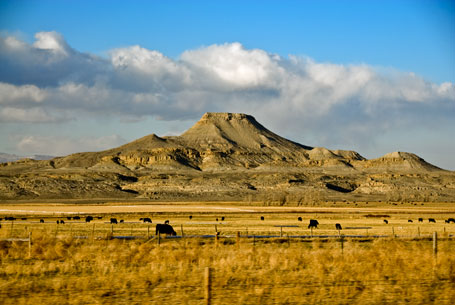 The Geeks planned on going all the way to Casper, WY, but got tired and stopped in Riverton. That would end up being a smart move because the next day they saw some awesome sights driving through the Wind River Canyon. But that's for day three. This is day two.
They only drove through two states but it ended up being a challenge. Snow was falling again in the two mountain passes they went through and the going was a little slow. In addition to the passes they drove through a desert (sort of) and saw some unbelievably gorgeous scenery, as evidenced by the awesome photo (above) taken by Mattski. Berty was driving and Mattski aimed the camera left and shot out the driver's side window while Berty reclined his seat and opened his window.
In addition to the wonderful scenery they also got to talk to not one, but two incredibly polite (and totally lenient) policemen.
They drove 429 miles.
See how they did it on the Day Two page or view the photos they took.
Day Three – Riverton, WY, to Wall, SD
By far, one of the more interesting days. The Geeks got to drive through the beautiful Wind River Canyon. This canyon was 12 miles long with cliffs that rose to heights in excess of 2000 feet.
The two states they drove through were incredibly diverse. The landscape changed from desolation, to a scenic canyon, to a gorgeous mountain pass with the highest elevation of the trip of 9,666 feet, to the familiar looking Devil's Tower National Monument, and then the tourist trap of Mt. Rushmore.
They drove 507 miles.
Check out how they did it on the Day Three page or look at the photos they took.
Day Four – Wall, SD, to Madison, WI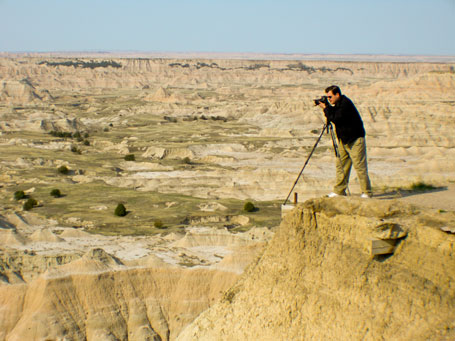 Berty and Mattski started at Wall Drug, the infamous sprawling roadside shopping mall, then drove through the awe inspiring Badlands of South Dakota, and then suffered through a long drive on Interstate 90.
All in all, they conquered three states. They drove the longest day of the entire trip – 734 miles.
See how they did it on the Day Four page or view the photos they took.
Day Five – Madison, WI, to Youngstown, OH
The Geeks altered their plans again. There was a little case of get-home-itis and the boys decided to forgo the original plans of driving through Canada and stopping at Niagara Falls. Hell, they saw waterfalls in Idaho that were bigger than Niagara…why add extra miles (and the possibility of breaking down because of the extra wear and tear) on Mattski's car?
They breezed through four states, almost exclusively on Interstate roads, and passed by approximately 4,386 farms (obviously not a reliable number – there were too many to count).
They drove 539 miles.
Check out how they did it on the Day Five page or look at the photos they took.
Day Six – Youngstown, OH, to Sterling, VA
It's the last day of the trip and there wasn't much planned to see. They stopped at Mattksi's alma mater, The Pennsylvania State University, and then hurried home so that Berty could help his saintly wife look after two little boys.
They drove through four states, through some very scenic countryside and then pulled into Berty's driveway. The whole trip ended up taking 5 days, 11 hours, and 33 minutes.
They drove the shortest amount of any of the days – 375 miles.
Read how they did it on the Day Six page or view the photos they took.