Mile -1
By Boat
It's a Two Day Cruise
Well, it all began for me when I left my ship in Seattle. I put "the car" on a barge to sail North ahead of me so I could have it when I got to Ketchikan. After some initial delays at Sea-Tac airport because of a "security breach" in terminal D that prompted TSA people to "secure the area," I boarded Alaska Airlines Flight 67. I spent a day packing my things in Ketchikan, seeing the sights once more, and then on Wednesday, I drove to the Alaska Marine Highway terminal where the M/V Matanuska was already docked ready to welcome people and cars through her large loading doors [check out the photo above - click on it to make it bigger] . When I entered the car deck, I was instructed to park next to a partially damaged dark blue Volkswagen bug that was decorated with feces from the local avian residents. Shortly thereafter, I ascended two decks to the cabin deck where the purser gave me my stateroom assignment. "13 Bravo," I stated. "Sounds lovely." Sure enough, it was about as big as my room on my ship was, only this one had a private head (that's what we mariner folk call toilets) and a window much larger than my old port hole (don't get dirty now, that's what they're called.)
I spent a large portion of time talking to a coastie (Coast Guardsman) who was also moving back east. I offered to buy him a drink later at the ship bar, but he declined. I must have met the only sailor that didn't drink. But then I remembered his truck's license plate said "Utah!" so I asked, "You aren't a crazy Mormon, are you?" "Why yes, I am," he replied. That explains it. Utah is the Promised Land. We agreed to meet for chow at 1830 and "chew the fat" about Ketchikan. As I exited the chow line where I paid $20 for my culinary delight from the galley, I felt a tap on my right shoulder. I turned around to find myself looking at an old shipmate from over a year ago. I spent the rest of the evening chatting it up with this cheeky engineer who used to be our small boat mechanic. It was fun to watch the landlubbers in the lounge turn green when the ship took some gentle rolls in the open water area known as Dixon Entrance. It was then I realized that I had become a "salt" because these same seas would have made me turn green, too, 3 years ago.
I slept well. The next day, (Thursday) I was greeted with a rap-tap-tap on my chamber door around 1400 while I was in the middle of watching Juno on my computer. It seems a little bird told the crew that I, too, was a sailor. The mate at the door said "How would you like to come up to the bridge?" "W00t' I said inside, whilst I verbalized "I would like that very much." I went past the magical boundaries of "crew only" signs and followed the mate up to the bridge where I gabbed with the crew about sailing, chart making, and sea stories. Good times were had by all. I even had some of their putrid coffee…it reminded me of the stuff my uncle brews – it was kinda good…after all, the galley wanted to charge me $1.25 for a cup of the good stuff, and mariners live on coffee; it's a necessary staple. The rest of the day was spent reading, watching more movies and snoozing. After all, tomorrow is a big day. We arrived in Bellingham at 8am PST…note the one hour time change, ferry passengers!
Mile -1
By Plane
It's Only a Six Hour Flight
The alarm rang at 5 am and I stumbled out of bed. I wondered for a second what Mattski was up to and then I realized that it was 1 am where he was and that he's in the middle of his "poor man's cruise" to Bellingham.
The cab ride to DCA was quick and I checked in with no problems at Alaska Airlines' counter. The very nice agent there let the overweight bag fee slide since my bag was only four pounds above the maximum of 50. It was a huge bag…one that we would donate to the FedEx guy we met on the street later that day.
I didn't have a two day trip ahead of me and actually had it pretty easy compared to what the other geek had to do. My five hour and fifty minute flight went ahead of schedule and I was pleased to arrive in Seattle about forty minutes ahead of schedule. I can't imagine having to fly in an airplane for long periods of time as a job. Who on earth would want to do that? In fact, if you go into the Photos section of this site you'll see me looking pretty bored on the flight. I read two books, listened to about an hour's worth of music, and slept for roughly twenty minutes. Alaska Airlines did a nice job and I'd probably fly them again if I had to.
The whole schedule worked out beautifully. Mattski arrived in Seattle about ten minutes before I did and picked up coffee for me and then picked me up at the airport.
Anyone else notice that Starbucks no longer brews bold coffee all day? What the heck is up with that? Pike's Place blend sucks, in my opinion, and I actually consider telling that to the nice baristas at Starbucks in Seattle. Whatever. No worries. Dunkin Donuts here I come.
Mile 0
Seattle
Seattle!
After driving to Mattski's old mailbox to, um, get his mail, we headed to Green Lake for a freaking fantastic lunch at Duke's Chowder House. That place rocks. Go there.
Then Mattski played tour guide and showed me all the best of Seattle. We headed to Admiral View Point for a good look at downtown Seattle, then continued to Alki Point (where the picture above was taken of the Seattle skyline, then we checked into our hotel and headed to Pike Place Market for some good old fashioned tourist gawking.
It was awesome. After the Market tour, and a fruitless search for coffee other than Starbucks, we headed over to the Space Needle for dinner. Don't go there. Well, actually go to the observation deck. They have really neat touch screens with tons of information about Seattle, and, of course, a great view of the city. But the food in the restaurant is just okay, the service a little pretentious, and the price outrageous.
Click on the photo above for a bigger view of the skyline.
Photos
But Wait, There's More!
We took a bunch of photos on this trip. Head on over to the Photos section to see 28 Day Zero photos.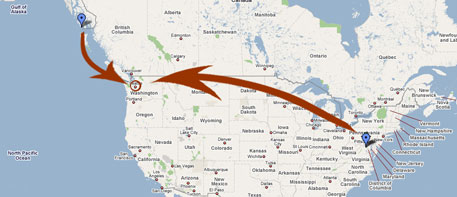 The Kids
At Home
One More Thing...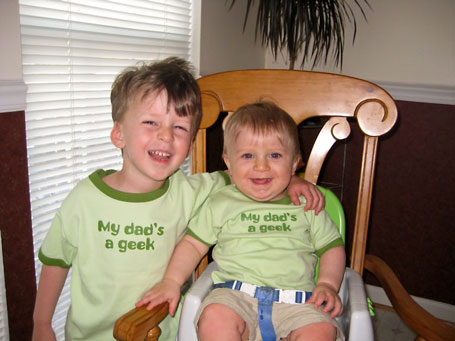 Don't I have the cutest kids, ever? I totally love them and this photo is going to make me smile every night that I am away from them.
It was taken by my beautiful wife, who I love very much and will miss dearly. She's the best. Seriously.
Tell me…what other woman would let their husband drive across the country like this? She's menthol!